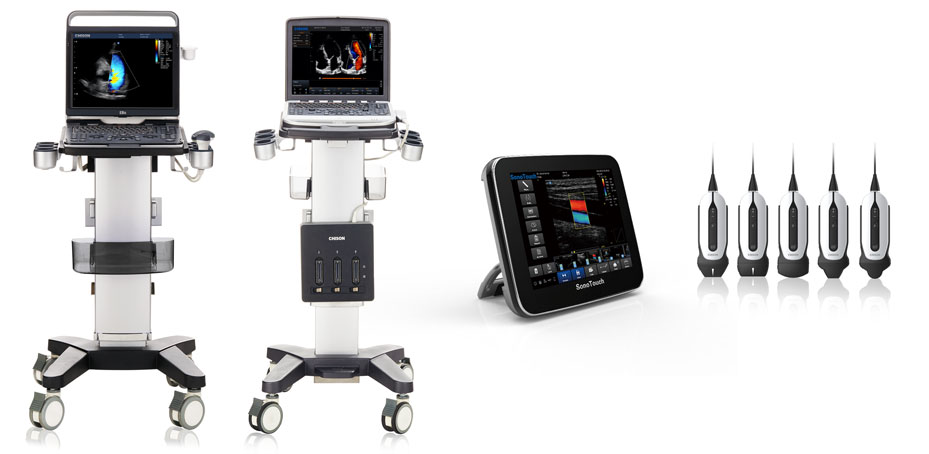 Portable ultrasound machines are mobile ultrasound systems designed to be used in small spaces, at a patient's bedside, or in the field. They can be cart-based, tablet-based, or hand-carried.
Outlook for Portable Ultrasound Systems
As patient volumes continue to increase due to aging populations and increasing co-morbidities, and budgets continue to shrink, it's evident that the portable ultrasound market is in a unique position to grow due to its cost-effective, real-time, portable solutions. Based on feedback from the market, CHISON insists on developing its comprehensive portable ultrasound machines in order to meet a wide range of clinical and financial needs.
Why is Portable Ultrasound Systems?
Compact Convenience
Throughout the past 50 years, ultrasound technology has rapidly evolved. What were once large, bulky systems are now compact. Portable ultrasound machines provide the flexibility and mobility to travel with clinicians and image patients where they are in real-time.
Portable ultrasound machines empower clinicians to obtain high-quality images without relying on a single machine's availability. These mobile systems have smaller footprints and can quickly move from room to room, minimizing wait time, increasing throughput, and ultimately contributing to a better patient experience.
Rise in Popularity
The COVID-19 pandemic ignited dramatic shifts in healthcare, allowing innovative technologies to realize their true potential at the forefront of patient care.
In today's quickly evolving healthcare environment, ultrasound systems are more frequently being used as the first choice for diagnostic imaging and triage. In some situations, it's the only imaging option. Due to their fast-paced nature, Emergency and Critical Care departments were early adopters of ultrasound to improve the speed and accuracy of patient care. But because of the machines' ability to move across departments, aid in quick diagnoses, and enhance workflow, portable ultrasound machines have been adopted in daily practice by many specialties, including Cardiology, Vascular, Radiology, Endocrinology, Pediatric, and Obstetrics & Gynecology (OB/GYN).
The new technologies and artificial intelligence (AI) being integrated into portable ultrasounds systems have simplified workflows, made exams faster and more accurate, and helped clinicians increase confidence in their diagnoses.
The Common Types of Portable Ultrasound
Laptop-Based Ultrasounds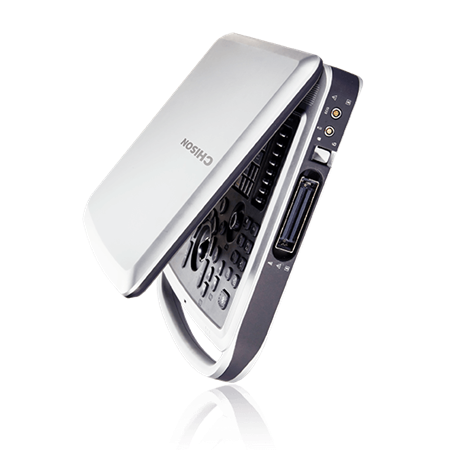 Laptop-based systems are ideal for fast-paced environments when advanced features are needed in a compact, portable solution. They are widely used in Emergency, Anesthesia, Critical Care, and Vascular departments. Many portable laptops come equipped with advanced imaging and AI components to capture diagnostic images and aid in diagnosis. You can scan on battery power alone with laptop-based systems, so they may be the only imaging option for mobile emergency units. CHISON has several laptop-based portable ultrasound solutions, like SonoBook series Ultrasound Systems.
Handheld Ultrasound Systems
Handheld ultrasounds are an excellent option when extreme portablity, fast scanning, and waterproof are required. Typically, these systems are utilized by many departments and users with varying ultrasound skill levels – so the system needs to be intuitive, easy to use, and provide exceptional image quality. Handheld ultasound systems are used in Critical Care, Anesthesiology,Gastroenterology,Musculoskeletal, Surgery, Vascular, Emergency Medicine,OB/GYN, Breast, Nursing, Covid-19, Pediatrics and Radiology. CHISON can provide the most advanced handheld ultrasound SonoEye for practitioners who need extreme portable ultrasound machine with premium image quality.
Tablet-Based Ultrasounds
Tablet-based systems are ideal for tight-spaced environments. When considering a tablet-based system, accessibility, ease of use, and disinfection are vital. Often, these systems can be found in Emergency, Critical Care, and Anesthesia departments. Tablet-based systems can have advanced features but are not a robust imaging solution since they are touchscreen only. They are ideal for targeted and specific uses, such as needle visualization, biopsies, and bedside applications
The Best Portable Ultrasound Machine Supplier
CHISON Medical Technologies Co., LTD(Stock Code: 688358) has emerged as World's leading Diagnostic Ultrasound manufacturer since its inception in 1996. In the journey of constant development and revolution in technologies, CHISON has set its foot independently with its own Research and Development Centres in China and USA. To know more about our products, click to contact us now!