A male patient with complain of neck mass. Patient has not registered any complaint regarding trauma, fever or pain and discomfort.
Clinical Diagnosis:
Neck speech and behavior mass. The nature is to be determined.
Examination Part:
Neck of the patient.
Preoperative Ultrasound Findings:
A mass can be seen under the skin of neck, with uneven echoes, clear boundary, with vascularity.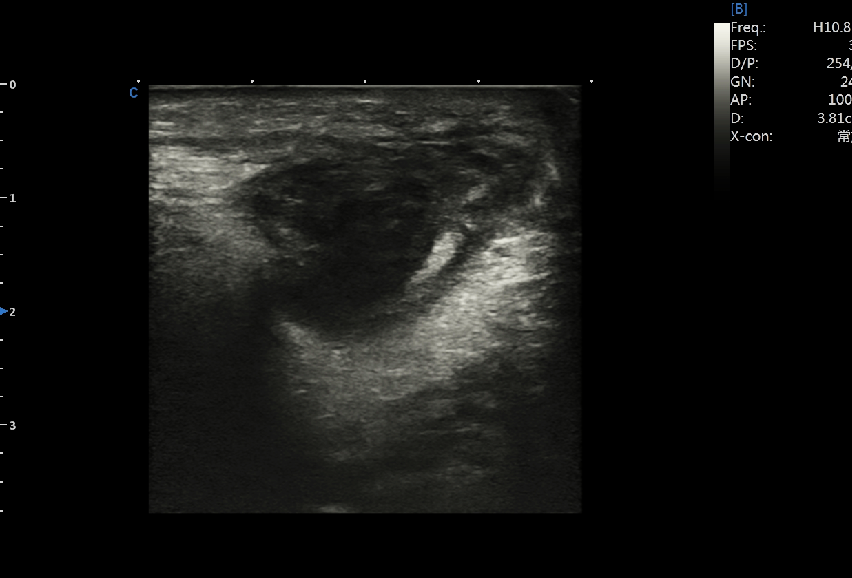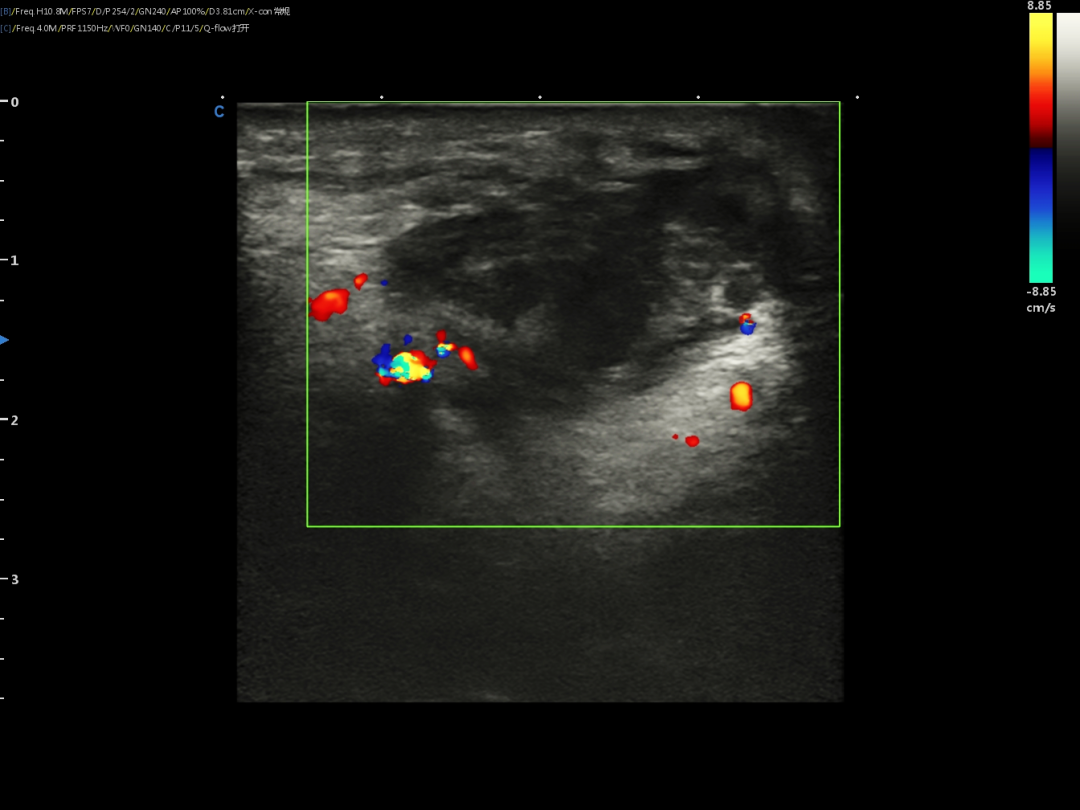 Preoperative instrument preparation:
Ultrasound equipment: CHISON XBit 90-an intelligent stand alone color doppler ultrasound. Before interventional procedure, the ultrasound machine is adjusted and calibrated through the water tank experiment.
Puncture probe selection:
Linear array probe.
Puncture tool:
Automatic biopsy gun.
Intraoperative:
Neck puncture under the guidance of ultrasound.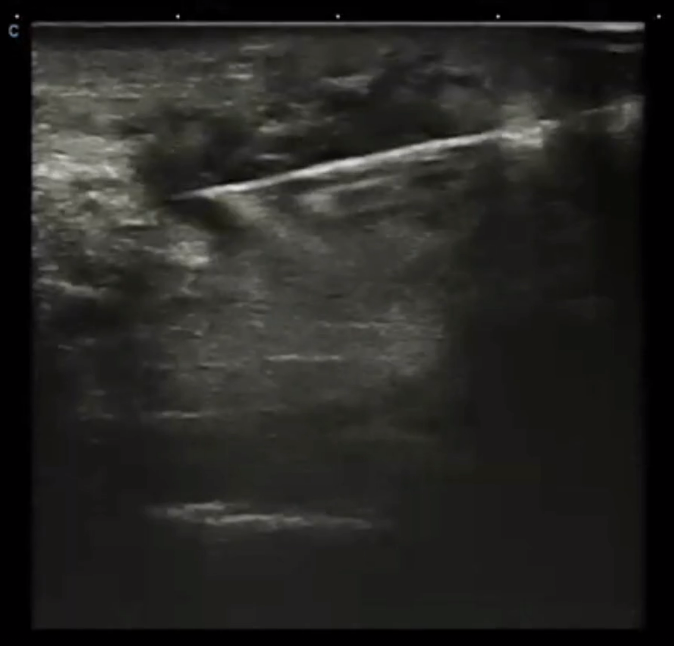 Postoperative biopsy:
Extract tissues to make the diagnosis clear through laboratory and pathological examination.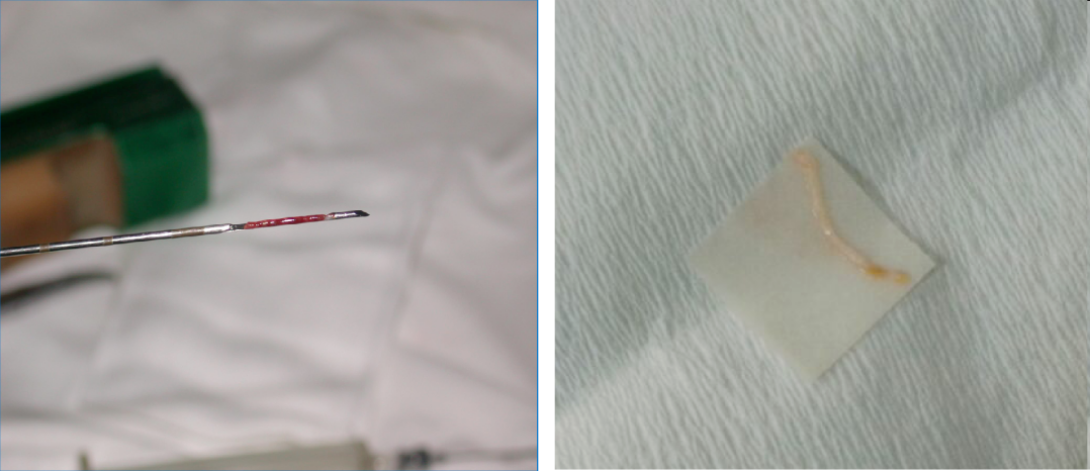 Standardized operation of ultrasound-guided puncture biopsy
1. Position the patient correctly on the operative table.
2. Select and mark the puncture site accurately.
3. Disinfect the puncture site and lay the surgical towel.
4. Give local anesthesia, using ultrasound scan the target tissue and ask the patient to hold his breath. Quickly, position the needle and puncture the target.
5. Finish up with your procedure such as biopsy, fluid extraction and drainage, drug injection or energy introduction according to the requirements of each case.
6. After the interventional procedure, stay for 1-2hr, pay attention to the breathing pattern, pulse rate, blood pressure and whether there are abnormal manifestations such as aggravated pain, hemoptysis, blood urination, etc., and use ultrasound machine to check whether there is internal bleeding in real time.
Clinical application of ultrasound guided puncture biopsy


With the increasing development of science and technology, the detection rate of various abnormal tumors by ultrasound images is higher, but it is often unable to make qualitative diagnosis, especially for the diseases that are not suitable for surgical operation and must understand the pathological diagnosis. Due to the advantages of ultrasound image visualization, non-invasive, non radiation and repeatability, accurate positioning guidance and dynamic monitoring can be achieved in the puncture process. The application in interventional therapy has also been further expanded, reducing tissue damage, increasing safety, reducing complications and reducing patient pain.
In puncture biopsy, ultrasound can provide real-time guidance throughout the whole process for diseases with unknown properties, such as inflammation, benign and malignant tumors, accurately display the puncture path and target area, and help doctors remove tissues. The diagnosis will be made clear through laboratory and pathological examination, which will help the next treatment direction.
High resolution intelligent ultrasound assisted puncture biopsy
In general, the indications and contraindications must be strictly mastered when carrying out interventional ultrasound. The puncture operation should be accurate, fast and in place at one time. It is forbidden to try on repeatedly when the needle tip is not clearly displayed. After interventional therapy, the patient's condition must be carefully observed to prevent internal bleeding, allergic reaction and vagal reflex bradycardia. It can be said that the image resolution of ultrasound imaging equipment, positioning accuracy and the professional level of interventional ultrasound doctors are the three elements of successful clinical application of interventional ultrasound.
CHISON new generation of high-end ultrasound XBit 90 is loaded into the high-end NIT platform. The eight innovative technologies make the images more accurate and can be applied to the preoperative, intraoperative and postoperative puncture biopsy. Before operation, ultrasound doctors can diagnose the exact location of the target tissue by using XBit 90. During the operation, the realization of real-time guidance can help ultrasound doctors obtain a clearer field of vision, display the location of the focus, the relationship between the puncture needle and the surrounding tissues, and complete dynamic observation and real-time sampling; After operation, the patient's physical condition and whether there is internal bleeding observed and evaluated to provide more sufficient basis for clinical practice.
In addition, XBit 90 adopts the meteor navigation function in the puncture enhancement application, which can not only display the puncture needle, but also move in real time according to the puncture needle, and use this technology to more clearly display the position of the needle body and needle tip.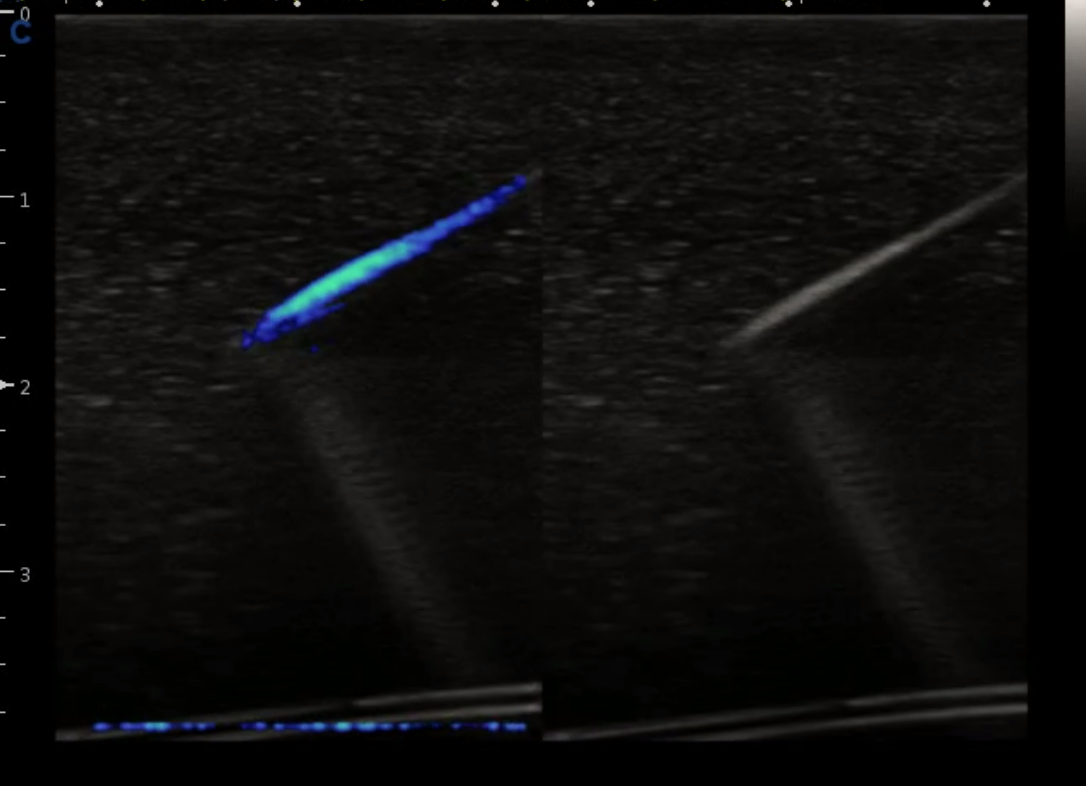 Intelligent high-precision imaging, better visibility. XBit 90 is a new intelligent ultrasound equipment in the field of high-end medical devices launched by CHISON. It is equipped with a variety of advanced probes suitable for different application examinations, including Width Enhanced technology (WET), Wave Match Technology (WMT) and other new ultrasound technologies. It has outstanding advantages in heart, maternity and routine examinations, and is also suitable for carrying out ultrasound-guided interventional diagnosis and treatment, helping hospitals improve the service level of minimally invasive treatment.
If you are interested in CHISON XBit 90, please feel free to contact us anytime>>Contact us.