Case Sharing
▍Patient information:
A male patient, 45y/o complained of shortness of breath, fatigue, and restlessness on lying flat. X-ray done before admission to the hospital shows an enlarged shadow of the heart.
▍Physical examination:
P84 times/minute, bp150/95mmhg, and thickened pericardium.
▍History:
History of hypertension with a regular habit of drinking and smoking around 20 cigarettes/day.
▍Clinical diagnosis:

Possibility of Dilated Cardiomyopathy.
▍Clinical treatment and prognosis:
To strengthen the Heart medication for diuresis, vasodilation, myocardial protection, blood pressure reduction, and other treatments are suggested.
▍Ultrasonic findings:
Measurements at Apical 4CH view in 2D Echo:
Left ventricular end diastolic diameter 73mm
Left ventricular end systolic diameter 67mm
Left atrium anterior posterior diameter 49mm
The upper and lower diameter of the left atrium was 67mm
Left and right atrium diameter 52mm
Right atrium 45mm
Left ventricle 66mm
Right ventricle 53mm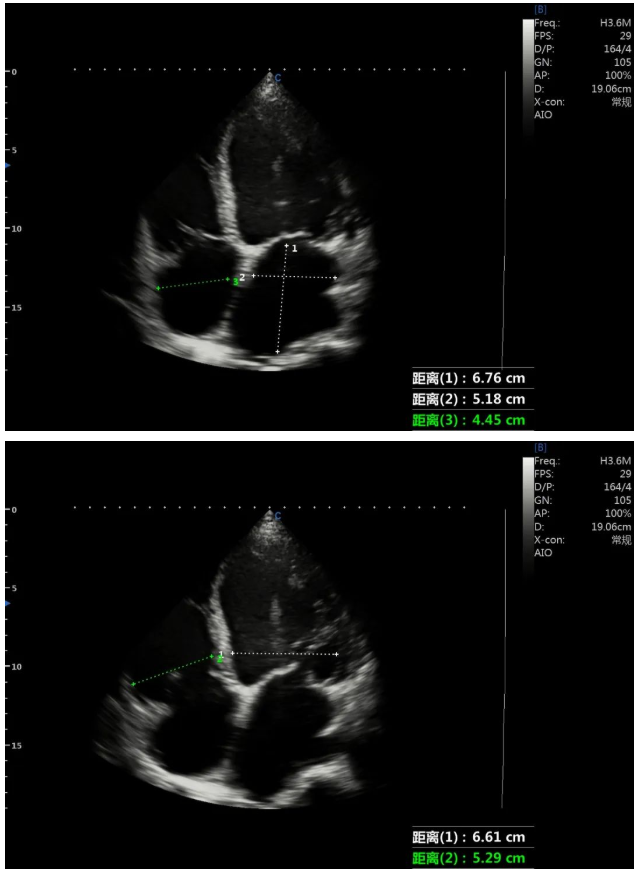 Widening of inferior vena cava.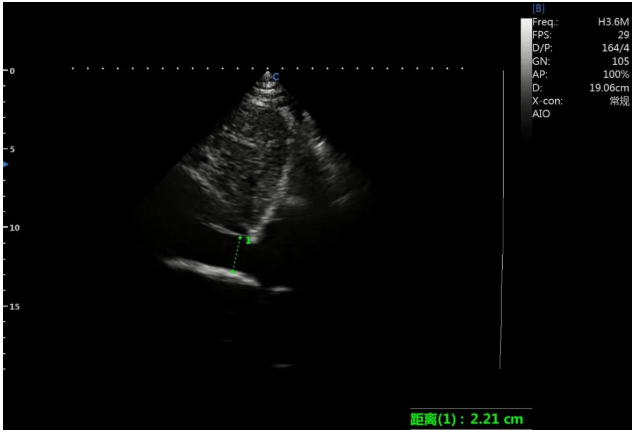 Left ventricular wall motion is diffusely weakened, and the overall left ventricular function is severely reduced, EF=18%.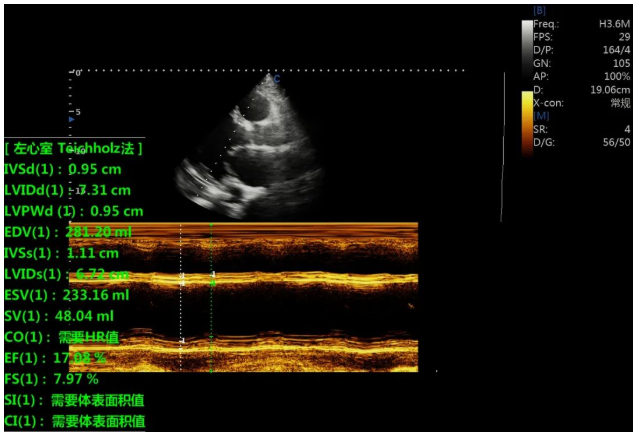 Mitral, tricuspid, and aortic valves have a small amount of regurgitation and the flow velocity of tricuspid regurgitation is Vmax=2.7m/s.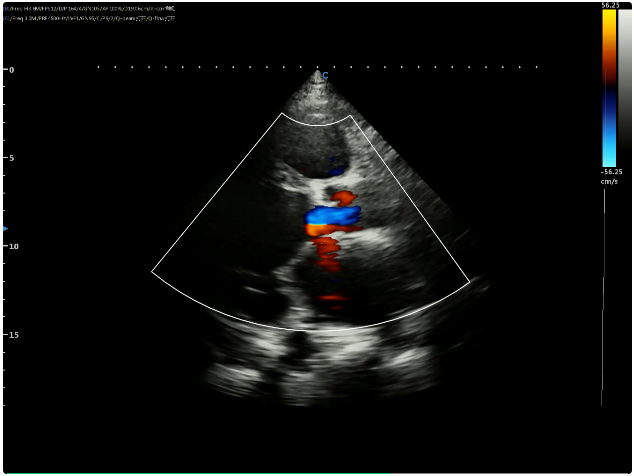 Case difficulties and differential diagnosis
Dilated cardiomyopathy is usually diagnosed by two-dimensional echocardiography. According to the "definition and classification of modern cardiomyopathy" of the American Heart Association, dilated cardiomyopathy is a group of diseases with many causes, such as viral myocarditis and familial hereditary dilated cardiomyopathy. This patient needs to consider the possibility of this disease from the echocardiographic performance, but it is necessary to further exclude the myocardial involvement caused by systemic diseases and some special types of cardiomyopathies.
Dilated cardiomyopathy and ischemic cardiomyopathy are very similar in ultrasonic images, and distinguishing them has always been the focus of clinical medicine. The patient had a long-term smoking history and had coronary heart disease risk factors. There are significant differences in apical ventricular wall thickness, left ventricular shape, ventricular wall motion amplitude, ventricular wall thickening rate, valve insufficiency tissue, and cardiac function observed by ultrasound. Combined with the observation results of various indicators, the two can be identified. In addition, the patient had no carotid artery and abdominal aorta atherosclerosis, no typical angina pectoris, no history of myocardial infarction, and ECG basis related to old myocardial infarction. According to the ultrasonic diagnosis and clinical manifestations, the diagnostic basis of ischemic cardiomyopathy is insufficient.
Ultrasonic findings of normal heart

Normal cardiac ultrasound showed that the size of each atrioventricular cavity of the heart was normal, the thickness of the ventricular septum was normal, and it was in reverse motion with the posterior wall of the left ventricle.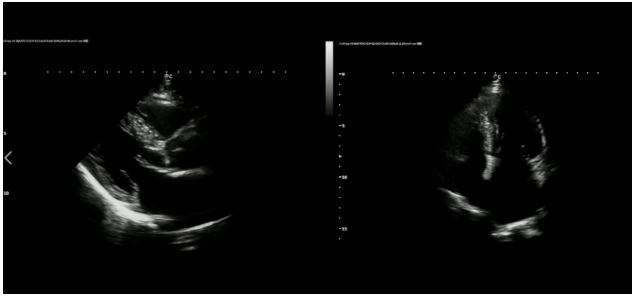 Application value of ultrasound in dilated cardiomyopathy and other cardiovascular diseases

Dilated cardiomyopathy (DCM) is a very common cardiomyopathy in clinics, and its condition is mostly progressive, which is an important cause of heart failure. End-stage heart failure often requires heart transplantation, and the prognosis is poor. Early and correct diagnosis and treatment can improve the prognosis as much as possible. The clinical manifestations of dilated cardiomyopathy are complex and easy to be missed. Echocardiography is a group of noninvasive and reliable examination methods that use ultrasonic echo to explore the heart and great vessels to obtain relevant information. It is an important examination method for the diagnosis and evaluation of dilated cardiomyopathy. It is widely used. It can be used to detect the esophagus and blood vessels of the human body.
CHISON XBit 90, which can be configured with a special single crystal phased array probe, brings together eight high-end innovative technologies. High-precision imaging clearly shows the heart structure and presents realistic heart details. Intelligent algorithms improve work efficiency and assist doctors to detect heart abnormalities more accurately.
A+ virtual apex is the expansion technology, which establishes virtual vertices through intelligent algorithms, can effectively increase the visual angle range and diagnostic information of the image, and provide more valuable information for doctors to evaluate the condition.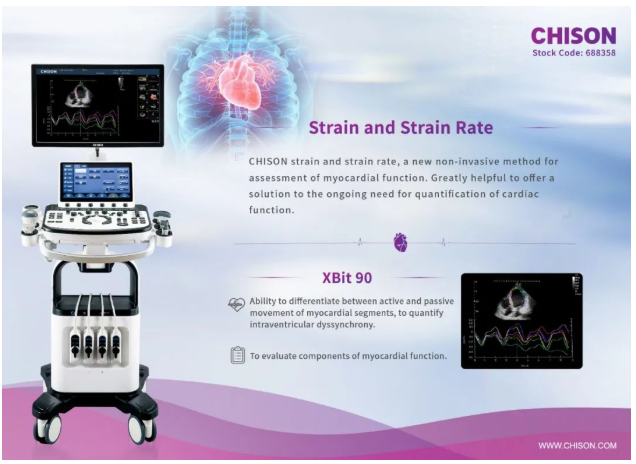 Nine innovative cardiovascular application functions, including pulse wave Doppler mode (SonoPW), Tissue Doppler Imaging (TDI- SonoPW), Intelligent Doppler Technology (Intelligent Doppler), IMT full cycle data tracking (SonoIMT), ejection fraction (Auto-EF), Strain and Strain Rate Imaging, enhanced Free steering M-mode, etc., providing more detailed information on cardiac morphology and movement, hemodynamics and cardiac function, along with bringing a different cardiovascular ultrasound experience.